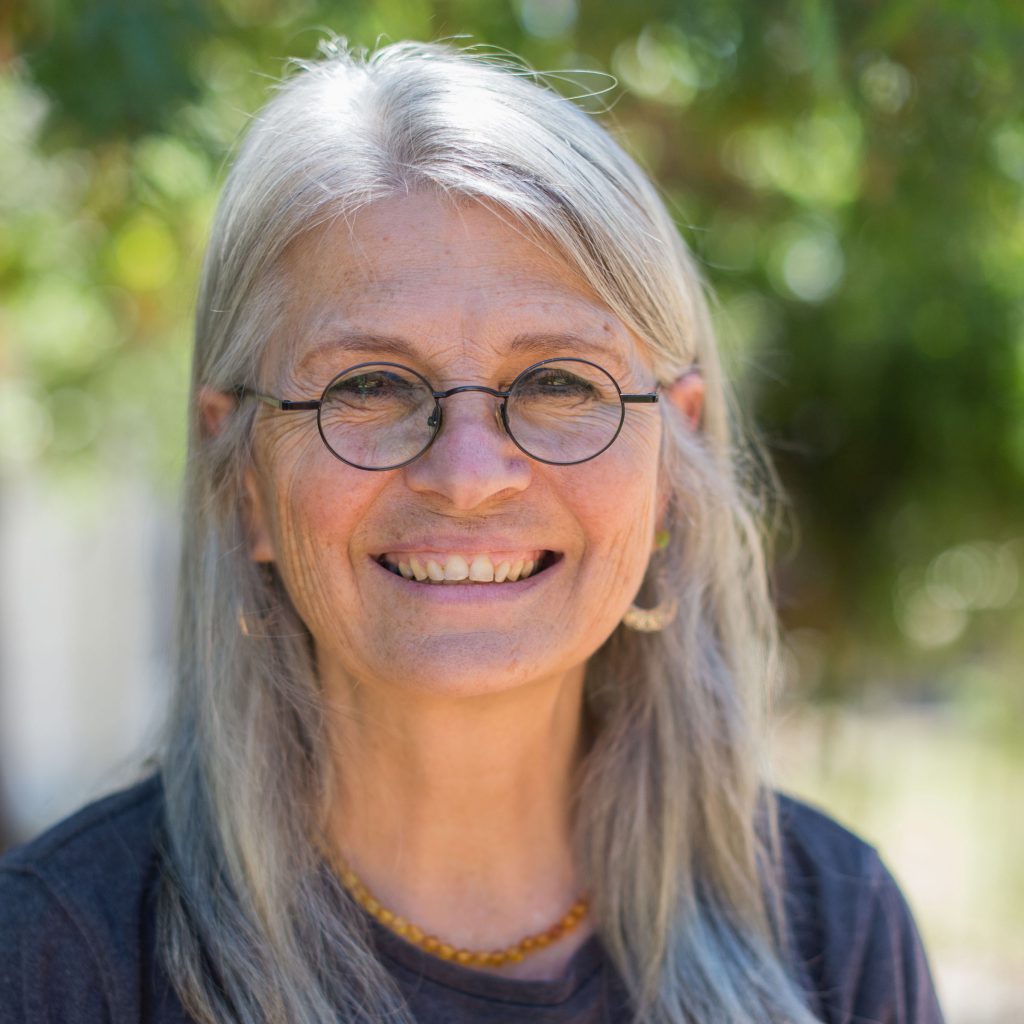 I was born and grew up in France and my lineages are from France, Switzerland, Denmark and Italy.
My life has been a series of awakenings through many rites of passage. A long journey through grief, after immigration, after losing a baby, losing my fertility and having chemotherapy when I was in my 20s.
A life long connection with the natural world was formed when I lived in the mountains of France, in a remote village called Dormillouse. We lived by what the mountains and the seasons dictated; in extreme conditions through long snowy winters, with no electricity, no roads and no running water. It was a time of deep reciprocity with the Earth.
Midwifery has taught me everything that is important about life. About being present to someone else's process. About the importance of kindness and its impact on a birthing family. As a midwife I learned how to take care of the physical while travelling in the metaphysical. Not making one more important than the other.
As a Grandmother I am incredibly passionate about the communication and connection between humans and the other than human beings that inhabit our planet. I see Ancestral Lineage Repair as a powerful modality to reconnect with the wellness of our lineages. The rituals that were ours before we got colonised out of our tribal ways, out of our connection and reciprocity with animals, plants, mountains, and to our sacred place in it all. I see birth as a powerful healing rite of passage. How a human is born into the
world impacts the whole world.
I would like to thank and honour my teachers and the people who accompanied the steps in my life.
My daughter and four grand-children, Jeanine Parvati Baker, Patch Adams, Jane Hardwick Collings, Tara Brach, Daniel Foor, the plants in my garden and the mountains of France, the land of Australia, all the women and babies I have been privileged to attend.  All my sweet and loving friends
Je m'appelle Marie-Louise Lapeyre, je suis nee et j'ai grandi en France pres de Paris, mes ancetres viennent de France, de Suisse, du nord de l'Europe (Danemark) et d'Italie.
Ma vie a ete une prise de conscience par le biais de nombreux droits de passage, un long voyage a travers le chagrin après l'immigration vers l' Australie, perdre un bebe, de perdre ma fertilitee et d'avoir une chimiotherapie, quand j'avais 20 ans.
Une connecxion profonde avec la nature m'a formee lorsque j'ai vecu dans un village eloigne des montagnes de France qui s'appelle Dormillouse. Cette connexion a dure toute ma vie. Durant les longs hivers neigueux et les etes de longues jounees de travail rude, les exigeances de la montagne m'on pliee a la volontee de la nature et des saisons.
Le metier de sage-femme m'a appris tout ce qui est important sur la vie, d'etre present au processus de l'autre, l'importance de la bonte et du monde invisible comme puissantes interventions physiologique. En tant que Sage-femme j'ai appris a prendre soin du cote physique tout en voyageant dans le metaphysique sans que l'un deviennent plus important que l'autre.
En tant que grand-mere, je suis terriblement inquiete de ce qui se passe sur cette Terre par suite du manque de communication entre les humains et les autres etres qui peuplent notre planete, plantes animeaux, montagnes. Je vois la reparation de nos lignees encestrales comme une modalite
puissante de renouer avec le bien etre de nos lignees et des rituels qui etaient les notres avant que nous soyons colonises hors de nos facons tribales, de notre lien sacre entre notre environment et nous memes et de notre place sacree dans tout cela.
Je tiens a remercier les personnes qui ont guide et accompagne mes pas durant ce voyage qui est ma vie: ma fille et mes 4 petit enfants, Jeannine Parvati Baker, Jane Harwick Collings, Tara Brach, Daniel Foor, les plantes de mon jardin, les montagnes de France et la terre d'Australie, toutes les femmes et les bebes que j'ai eu le privilege d'assister, et Rachana.